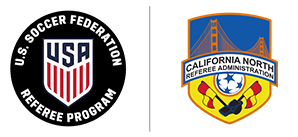 All of our referees go through the US Soccer Referee Certification Program before ever refereeing a game. We believe all of our players need to learn the rules of soccer. Our referees set the example of adhering to best soccer practices such as proper throw-ins and no hand balls, to name a few.
Eligibility Requirements:
Must be 15 years old or older
Previous soccer experience/knowledge of the game
Ability to make a 2 season commitment (Spring & Fall)
Open availability on Saturdays during the playing season
Attend the in-person field certification training (3 hours) + on-line course
We are always looking to expand our refereeing team. If you meet the requirements listed above, and want additional information, please email president@playcaa.com 
*All referees receive a stipend per refereed game.